John Ellis Sr. was an early Evergreen pioneer, magician, restauranteur and barkeep. He built his dream restaurant/bar with two attached back bedrooms to house his rapidly growing family. Then known as Magic Inn, it later became Bergen Park Inn, Whippletree, Cedar 65, and most currently Parkside Cafe. While John entertained patrons with his legendary magic acts, son John Jr. worked Magic Inn's bar. His mom (whom everyone called Granny) and his wife, Edie, prepared delicious meals. John Ellis III made an appearance during a hellish snowstorm, making a trip down the hill for a safe hospital birth impossible.
From the day of his birth to now, John Ellis No. 3 shares, "Evergreen was a tight-knit community in those days. No matter the task, neighbor helped neighbor. Landline telephones also connected us because everyone shared party lines. Without a doubt, people listened in when they weren't supposed to, and if gossip was shared or something was tactlessly said, it quickly spread.
"Christmas always brought our community together, especially when Santa appeared in his tow truck. Every kid in town climbed on with or without parental permission or assistance. Walt Anderson portrayed Santa, who, like most of us, came from Evergreen pioneer stock, and he also worked several jobs to make ends meet. In addition to his towing business, Walt delivered fuel to heat homes throughout the mountain communities and was perhaps Evergreen's one and only snowplow service. He later established the Walter Anderson Oil Company that transitioned into Anderson's Mountain Market. Many Evergreen residents, including Walt, established our official fire department in 1948. It was then that Santa Walt ferried kids around in the fire department's highly cherished fire engine, which was actually an outfitted truck with a hose and pump donated by the Colorado State Forestry Department."
John affirms winters were more severe then than now: "One snowstorm, of which there were many, dumped an average of 3 to 5 feet. Frigid temperatures lingered throughout the winter months, so it wasn't unusual for the ground to remain snow-covered. Kids of all ages were eager to shovel for a meager wage, which more often than not was homemade cookies. Boys and girls scouting troops were numerous, and participating scouts united with their parents to shovel snow in the winter and mow and rake lawns in the summer. Scouts and their parents also united with the vast majority of our community to help EChO (Evergreen Christian Outreach) with their food drives in those days."
Evergreen Lake was a major draw for events and activities, especially ice skating. John recalls, "The Warming Hut rented ice skates, but the majority of us kids strapped blades to our shoes with leather straps. We started skating early in the morning and spent the majority of the day there. Then, as now, the Warming Hut had a potbellied stove, and we'd break to dry out our mittens and warm our feet, doing our best not to catch either on fire. Outhouses were located atop a step path adjacent to the Warming Hut. It was a dangerous trek going up and down that slippery slope, but it was a matter of do, or die of embarrassment."
"Skating tournaments and other competitions were also popular. Teams were randomly picked and certainly not well-coached. We were a ragamuffin group of youngsters who never failed to play Crack the Whip, a strictly forbidden game which made it all the more fun. Kids too numerous to count latched onto one another as the leaders—always the older and stronger kids—who whipped us in one direction, then another, ensuring we lost our balance and off we flew."
John's most treasured childhood memory is when his grandfather taught him to fly fish on Bear Creek. "My grandfather gave me his fly rod—my first. I was instantly hooked. We loved casting where Groundhog Flats and Camp Rock waters flow into Bear Creek off Mount Evans at Singin' River Ranch."
Avid fisherman and legendary Colorado rancher George Cranmer built Singin' River Ranch in 1922. In addition to crafting a beautiful house using local stone and designing a sod roof for insulation, Cranmer also created self-sustaining trout ponds throughout the property. He sold the ranch in 1943, and the new owners transitioned the property into a summer resort and restaurant. They wisely hired John's grandfather to perform his magic tricks. "Their admiration of my grandfather gifted me with unlimited swimming in their pool and allowed us unrestricted access to fish on their property," John reminisces.
Kids cruised around Evergreen and beyond a bit differently than they do now. "We either walked, biked or rode horses no matter the distance. We thought it fun to ride our bikes to Kittredge or Morrison, but the uphill trek coming back to Evergreen was tough. My first real job was working at El Rancho as a busboy, and I usually walked to work. Occasionally, I thumbed rides with friends. My parents warned never to take rides from strangers, so I waved people on if I didn't know them," John remembers.
Cupid targeted John his first day at Evergreen Junior High School. It was then, Sherry, his wife of 57 years, stole his heart. John explains, "New kids definitely stood out from elementary school through high school because living in Evergreen did not attract the masses in those days. I instantly noticed three new kids my first day at junior high: two boys and the most beautiful girl I've ever seen—and lucky for me, Sherry agrees it was love at first sight for us both. She wanted to volunteer on the school newspaper in the eighth grade, and I didn't hesitate to sign up to ensure we had more time together. Our first official date happened when we were in the ninth grade when I was a member of E Club. I invited Sherry to our letterman's club picnic. My friends and I enjoyed playing any and all sports, and sock hops happened after every game, so named because we danced in our stocking feet to ensure the wood floors weren't scratched. Those were the days kids learned how to dance in PE classes, so we all knew how to waltz, polka, jive, cha-cha and swing. I learned how to do the bop and twist by watching 'American Bandstand.' I'm proud to say Sherry remains my steady date, and we're blessed to have three daughters, one son and five grandkids."
John became an early entrepreneur in 1959 when he started a worm business with his buddy, Charlie Washburn. "We handcrafted worm boxes and raised red worms and nightcrawlers. Olde's Texaco, then located on Main Street where Creekside Winery now stands, was the only place in town where you could buy a fishing license. People came in droves, as few as 1,000 to 2,000 to fish Evergreen Lake on Opening Day," says John.
Evergreen became desirable to the masses when they heard Darst Buchanan, of Hiwan Ranch distinction, designed an elegant subdivision around a golf course, complete with a high-end club house. John landed a job shoveling snow off Hiwan's greens and worked another busboy gig in the club's restaurant, but working at Hiwan Stables fueled his ignited passion for horses.
"No longer is there a Hiwan Stables, and the original barn has transitioned into several restaurants, most recently Woodcellar Bar & Grill. Rafters and part of the barn still remain visible, but obviously missing are the 12 stalls that boarded a few horses owned by Hiwan residents. The remaining horses were rented by the hour, and my post was trail guide. Those were the days prior to Hwy 74 being a four-lane thoroughfare. Old Bergen Road was how we connected with Hwy 40, and in later years, I-70. I guided both tourists and locals to what is now Soda Creek that was then privately owned land. In those days, ranchers and landowners permitted me to take riders on their land with the promise that any gates I opened would be securely shut and locked. My keyring was full of keys entrusted to me that allowed our rides to last for hours. Prior to the development of The Ridge, we could ride to Kerr Gulch and beyond," John recalls.
He continues, "Milk cows were stabled in a loafing shed that is now Dandelions Restaurant. Five families shared the cows, ours being one. We had to hand milk the cows daily, 7 days a week, no matter the weather, the holiday or whatever plans you thought you could keep. After milking, we poured the milk into a hand separator to make cream and butter. It was hard work, but well worth it."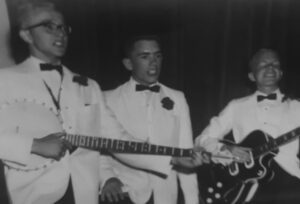 In the early 1960s, John and two other friends, Tom Mathews and Bob Sullivan, formed a folk trio. John was lead vocal, Tom played the banjo, and Bob the 12-string guitar. John recalls, "Our favorite place to play was The Gruffy Bird, which was located on the second floor in the old Evergreen Hotel on Main Street. Coffee was 25 cents, and cookies were plentiful. Lick the Dasher was a combo ice cream/candy store in the space Muddy Buck now claims. To entice a crowd, we often played on the boardwalk.
"The bar next door to what was originally the Evergreen Hotel was first known as Round Up. On a whim, then Sheriff Bill Wheel decided to ride his horse through the swinging barroom doors and onto the barroom floor. The bar was later renamed the Red Ram prior to becoming the Little Bear, which was a church by day and a bar at night. Up the steep street next to Little Bear, Douglas Park Road, was the Trails End movie theater that is now Saigon Landing. Bill Wheel owned Trails End, so people of all ages were expected to act mannerly."
The advent of television came to Evergreen in the 1960s. Local mountain peaks blocked TV signals causing distorted pictures that required v-shaped antennas, often referred to as rabbit ears. The antiquated antennas required constant rotation and adjusting to maintain a static-free picture. John's innovative grandfather created the remedy. "Our family was one of the first to own a television, and my grandfather cleverly attached two copper wires to the set, then gave me the spool of copper wire and ordered me to climb the hill behind our home in Kittredge and 'hook the wire up on a high tree limb.' I watched 'The Lone Ranger,' 'Howdy Doody' and 'Hopalong Cassidy' on the weekends, and 'The Mickey Mouse Club' came after school during the week. No boy my age missed a show because Annette Funicello won our hearts."
John's civic mindedness and devotion to our community remains resolute due to family influence and joining Key Club in 1963. Key Club is a student-led high school organization sponsored by Kiwanis International that presents kids with opportunities to become service-minded, build character, and develop leadership skills. After graduating from Evergreen High School in 1965, John joined Blue Spruce Kiwanis and has served as president three times during his 59-years-and-counting membership. His civic consciousness remains steadfast. He was elected to the consolidated Evergreen Metropolitan District board on May 2, 2006, and reelected May 8, 2018. He served eight years as a board director for the Evergreen Park & Rec District (EPRD) and is recognized as a lifelong steward of Evergreen waterways through his involvement with scouting, Evergreen Trout Unlimited, as well as fly-fishing guide and instructor with Blue Quill Angler. Colorado Trout Unlimited named John Volunteer of the Year; Evergreen Chamber of Commerce awarded him Lifetime Ambassador; Elks Lodge presented him with their Lifetime Achievement Award; and he was an inductee to The West Chamber's Jefferson County Hall of Fame in 2017, the same year he retired from Evergreen National Bank as director of community relations.
Obviously, there's no place like Evergreen for this third-generation native. John states, "I love my hometown and our local businesses. Both have a special feel and glow that is welcoming to everyone. My hope is that we can keep it that way. I think it's possible as long as we remain kind and go out of our way to show compassion, care and concern for one another, and especially kids throughout our community, their schools and the environment we create for them."